The Portus platform is the foundational element of our solutions.  We spent the early years of our existence strictly on the platform elements and we have continued to perfect them throughout our history.
The platform includes "under the hood" functions and libraries that make the advanced  analytics applications possible.
You can get the full details of the platform elements in our article on the subject here, but the crucial value proposition of the Portus Platform is that all the heavy lifting is done for you so our customers can use Portus applications immediately to derive significant value.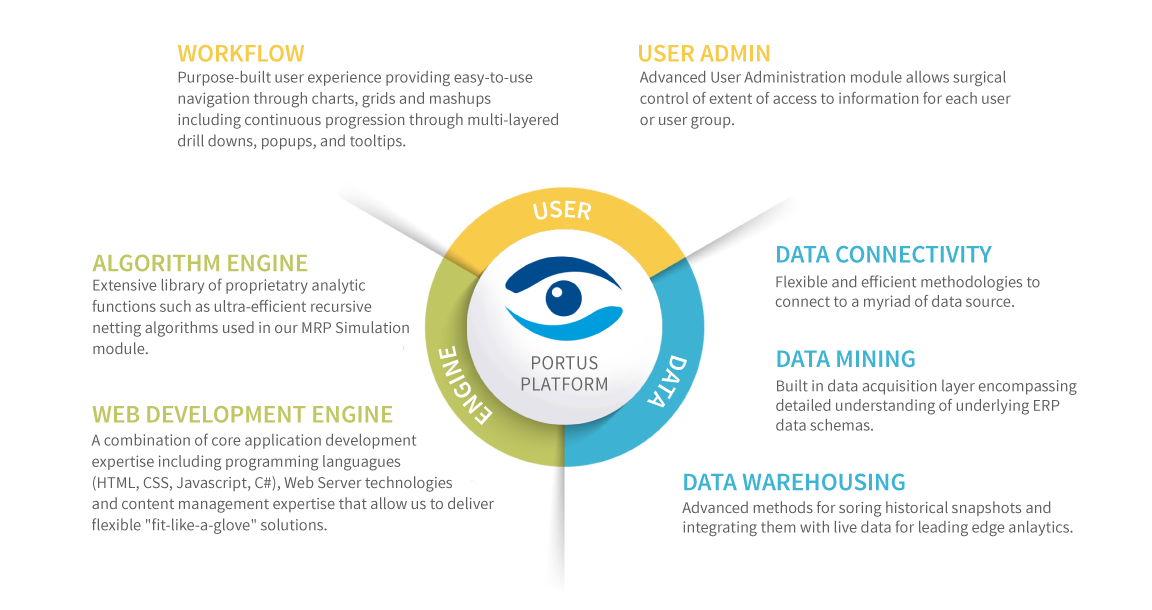 Using the power of our platform, all our applications are built with the following key value propositions:
Immediate Time to Value – Customers do not wait for a lengthy implementation and then spend time connecting to data sources and designing reports. With Portus, you do not start with a blank page. You get functionality immediately after installation.
Plug and Play – Set up is fast and easy and once we connect your data sources, you immediately have access to hundreds of pre-built analytics spanning financial, operational, supply chain and sales dynamics. The browser-based views mean you need no specific training to use Portus. If you know how to surf the web, do Google searches and shop on Amazon, then you're ready to use Portus.
Purpose Built – All of the views and drill downs in Portus have been designed by people with decades experience in manufacturing settings. Over the years they have been perfected by feedback from multiple production installations at customers in various manufacturing environments.
The Portus Platform is the engine that lets us build solutions that make your business better. The Portus Platform powers these applications:
See What Portus Can Do for Your Organization.
We're so sure your organization will recognize an immediate benefit from Portus that we're willing to offer you a free trial. Portus will deliver a 30 day, risk-free trial, allowing you to see the product in action with your data on a real-time basis.