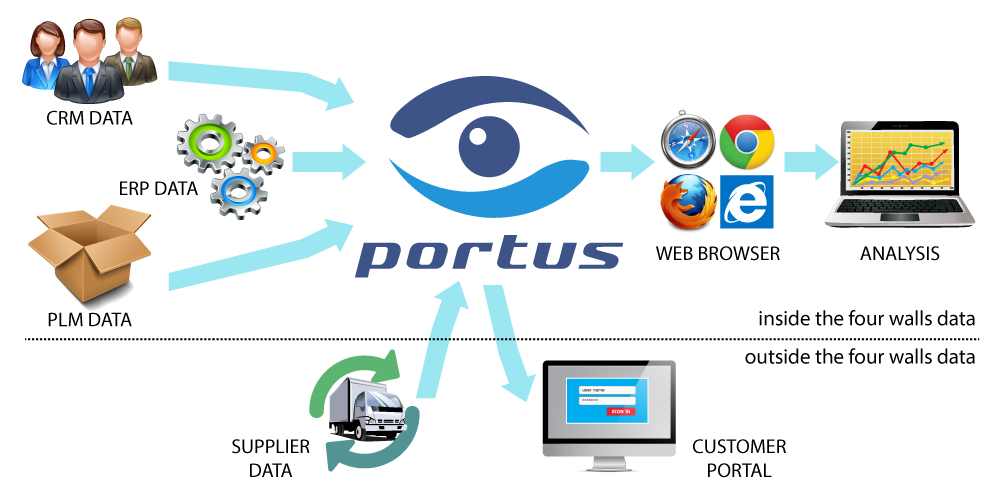 Inside your four walls integration: ERP, MES, PLM and other systems
Portus has been architected with an advanced data acquisition layer that allows the application to tap into all of your key business systems and bring that information into one unified platform. The focus of most of our functionality is the data in your ERP system but we also seamlessly integrate data from your Manufacturing Execution System, Product Lifecycle Management System, Customer Relationship Management System and other internal systems where you store important information.
In all of these cases, Portus fully manages the entire data acquisition process so that the pre-built reports and drill downs are ready to be used immediately after installation of our application.
Reports and analysis anytime, anywhere
Portus takes the data acquired from both your inside the four walls and your outside the four walls sources and presents it in easy to understand and easy to use web pages. All you need to get to Portus is a Web browser which makes our application very easy to deploy to everyone in your organization.
The analyses in Portus have been developed by people with decades of experience in manufacturing settings. As a result, great care has been taken in the design of the reports and their flow (especially in terms of the continuous drill downs) in order to ensure that the analysis that you need is at your fingertips and that you can quickly navigate to related information of interest.
The end result is an easy to deploy and easy to use turnkey solution where all of the heavy lifting has been done for you.
Connect with data outside your four walls
Supplier data: Portus can integrate information from outside your four walls with your internal business data to bring you a complete picture of the dynamics driving your business. As an example, for electronics manufacturers we have integrated real time feeds of product availability and pricing information from the largest North American electronics component distributors so that you can see part availability from both inside your business and at your suppliers in one unified report.
Customer Portal: With Portus driving information needs from simple queries to advanced analytics, you can turn the Web reports that are making your internal resources much more efficient into a powerful source of integration with your customers. Instead of answering phone calls or emails with simple questions from your customers, you can provide them a self- service Customer Portal where they can get to the information that they need when they need, thereby increasing customer satisfaction and further increasing internal efficiencies at the same time.